Some Americans talked to their TVs, some made observations on Facebook and live blogs. And some, including members of Congress, shared their key moments of the speech in 140 or less text characters via Twitter.  Jessica Roy over at MediaBistro.com posted a look at the Twitter infographic of the State of the Union  that shows the social media brings a new dimension to the communication of public affairs.  Twitter logged 766,681 tweets referencing the 2012 State of the Union and related hashtags, like #SOTU. (Below is a segment of the infographic. Follow the link to Roy's post to see the complete image.) As for those who didn't follow along in Twitter …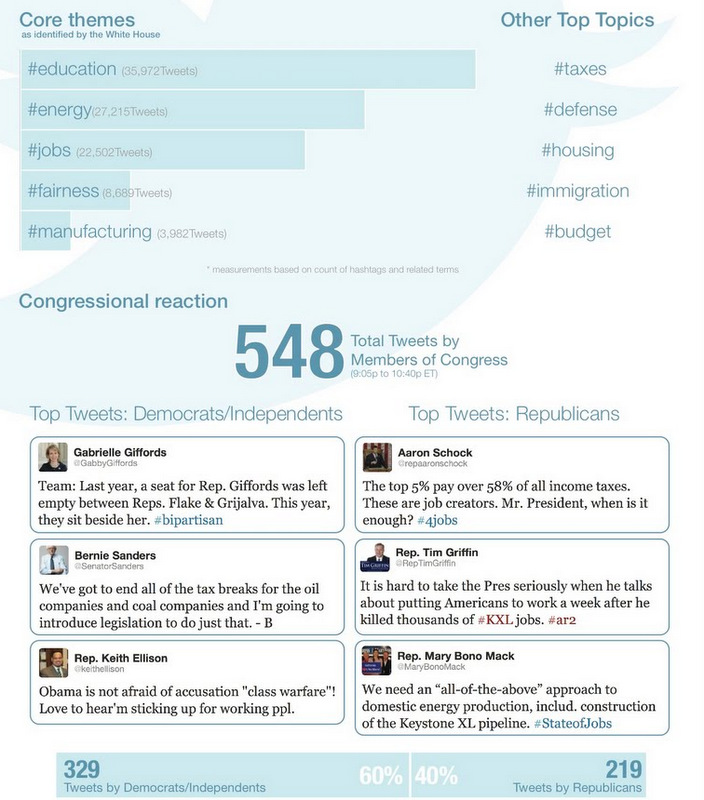 … they missed out on small moments of analysis and wit that tradition media can't deliver, says Eric Wemple in his Washington Post blog post: State of the Union 2012: An event that the media has surrendered to social media.
To use a cliche of the industry, it's a game changer. Before Twitter, watching the State of the Union address for me amounted to an act of civic-minded drudgery on a par with standing in line to vote on a miserable November morning, watching Discovery channel reruns during jury duty at the D.C. Superior Court, or recycling.
And with Twitter?
It's a 65-minute comedy routine with some expert commentary thrown in just for kicks.
And the conversation continues long after the speech ends. See the latest #SOTU posts here