When I started in the news business as a copy clerk it was common to see t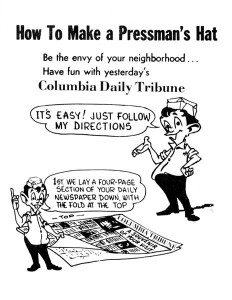 he press operators wearing a simple newspaper cap to keep the ink and grease off their hair during their shift. It was fun to show kids how to make their own when they came by on field trips.
Nowadays most newspapers are too narrow for these directions published years ago by the Columbia Daily Tribune. But thanks to the internet we now have more fashionable recycling options. Sites like Etsy.com elevate the home crafters of the past to today's artisans. A little Googling leads to an inspired inventory of wearable news items.
Etsy.com artist Esme Dodsworth uses decoupage to turn those freebie papers that arrive unsolicited in her driveway into bangles and pendants.
NewspaperJewelry.com offers a collection of eco-friendly gifts from newspaper and other paper goods, including cufflinks and ties made from crossword puzzles and comics pages.
Things get even fancier when designers and textile artists get the call to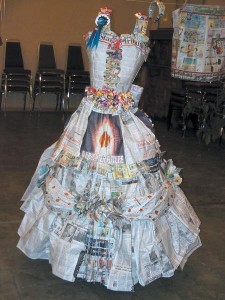 recycle, like they did with the Print to Apparel Project put on in Terre Haute (right). Or the stunning dressworks by Elena Gregusova in her "Wear the News" project.